PROM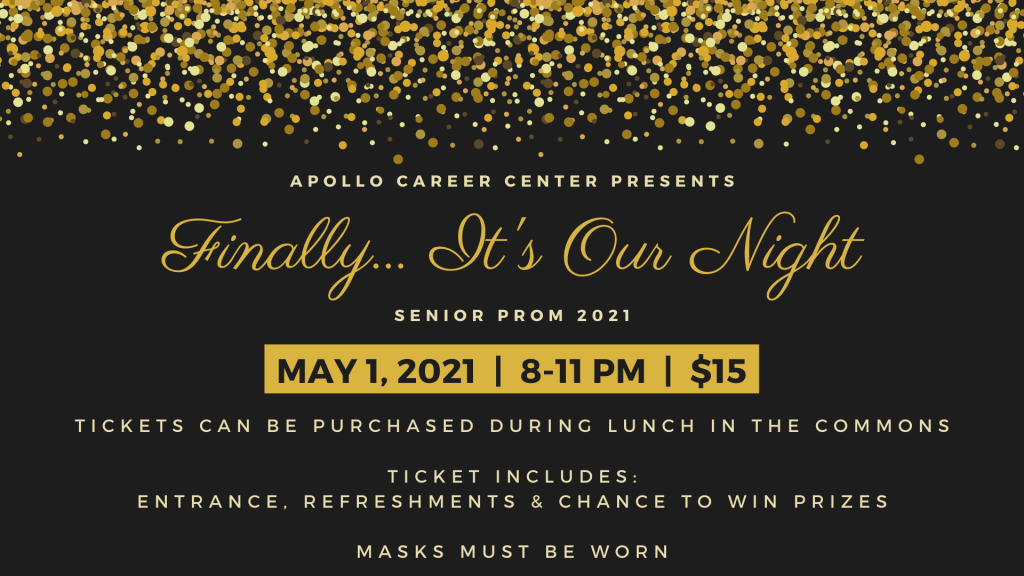 Due to changes in current restrictions, we are pleased to announce that we have been able to reconsider hosting a prom at Apollo Career Center.  There are still many restrictions in place that will require us to make major adjustments to the event, but we are grateful to be able to offer this to our students. Our prom will be held on May 1, 2021 from 8:00-11:00 p.m. and only Apollo students will be permitted to attend the event. 
Based upon room capacity, we will have a maximum amount of tickets that can be sold.   For this reason we have decided to open sales to our senior students first.  These students were not able to attend a prom last year, and we feel it is only fair to assure that they receive priority.  Once the senior ticket sales close, any remaining tickets will be sold to junior students who wish to attend on a first come, first served basis.  I realize that may mean not all of the students who want to attend get the chance. Ticket cost will be $15.00 per person.  Cost includes: event entrance, refreshments and the chance to win prizes.
Given a very tight timeline to organize the event, we will be sticking to our Apollo students only policy regardless if there are health policies that are relaxed prior to that night.  In following state guidelines the wearing of masks will be required of all attendees. Please be aware that any sudden spike in COVID cases in our region or state could also require additional modifications or a cancellation.
Tentative Schedule for 2021 Senior Honors Night/Graduation Ceremonies
Each student will receive 4 tickets for families.
Apollo will live stream the event for family members who are unable to attend
Wednesday  May 26th  6:00-7:00
Auto Collision Technology
Automotive Technology 
Building and Renovations
Carpentry
Computer Information Support
Early Childhood Education 
Wednesday  May 26th  7:30-8:30
Construction Equipment Technology 
Construction Equipment Technology 
Cosmetology
Culinary Arts
Spa and Esthetics Technology
Thursday May 27th  6:00-7:00
FIRE/EMS Technology
Floral Marketing Interiors
Health Science 
Health Science
MultiMedia Technology
Thursday May 27th 7:30-8:30 p.m.
Print and Graphics
Robotics/CNC Technology
Sports Fitness and Exercise Science
Welding 
Welding 
All of the above information is subject to change.