Click Here for List of Positive Covid Cases
Remote Learning
Students will attend academic classes online and report to campus for career technical classes.
Student Expectations:
Students should maintain school as a primary priority
Initiate and own learning 
Participate and engage in all learning activities
Track personal progress weekly
Asks for help when necessary
Expectations for remote learning will be the same as defined in the full remote learning plan
Outline of Plan:
Teachers will host live interactive classes that follow their original master schedule.  For example, if a student attends English class first period they will be expected to be online to receive instruction at that time.
Students are expected to attend all online meetings at their scheduled time.  Failure to do so will result in the student being considered as truant.
All student absences will follow the adopted attendance policy in the student handbook.
Classroom expectations for participation and behavior will be the same as if the student were attending an in-person class.  
Assignment due dates and grading will follow the policies adopted in the student handbook.
Remote learning will take place through the Schoology platform.
The student and parent or guardian are responsible to have appropriate Internet connectivity to actively participate and attend your scheduled class.
Failure to have appropriate Internet access is not an excuse for a failure to attend or to turn in course work on time. 
Student must report to the Apollo campus to attend career technical classes.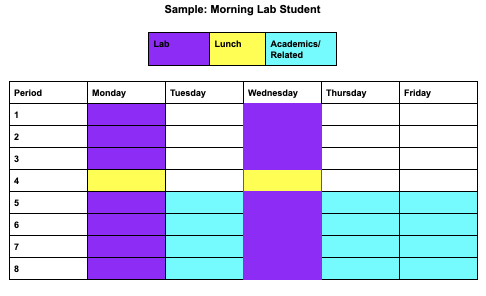 ---
P-EBT (Pandemic-Electronic Benefit Transfer)  It is important that you fill out the free and reduced lunch application online this year even though all kids are receiving free breakfast and lunch. Many other benefits are tied to the  application for you personally and the school district.  If you know you qualify or think you might, please complete this ASAP to ensure you do not miss out on anything in the future.
Please fill out the form here 
---
Positive Covid Cases
Date of Positive Covid Cases 
Number of Cases
04/30/2021
1
04/21/2021
1
04/16/2021
1
04/12/2021
1
03/29/2021
1
03/19/2021
1
03/05/2021
1
02/17/2021
1
02/09/2021
1
02/02/2021
1
01/27/2021
1
01/22/2021
1
01/21/2021
1
01/21/2021
1
01/19/2021
3
01/15/2021
1
01/13/2021
1
01/11/2021
2
01/08/2021
1
01/07/2021
2
01/06/2021
1
12/23/2020
1
12/17/2020
3
12/14/2020
4
12/09/2020
3
12/04/2020
1
11/23/2020
1
11/20/2020
3
11/11/2020
3
11/05/2020
1
11/04/2020
1
11/03/2020
2
10/20/2020
1
10/16/2020
1
10/15/2020
1
10/09/2020
2
10/07/2020
1
09/28/2020
1
09/24/2020
1
09/21/2020
1
09/18/2020
1
---
How your student can stay current on school work during Quarantine or Isolation
Student absences due to quarantine or isolation are considered excused as long as we receive the appropriate documentation from the Health Department.
Students are granted the same amount of days in which to make up school work as excused days that they missed.  School work for excused absences can be made-up for full credit earned, during that timeframe.  Example: student misses five days.  Including the day of return, they will have five days to complete their makeup work for full credit earned.
Missing several days of school work can be overwhelming for students when they return.  While we do not require students to complete work from home during this absence its highly encouraged.  Teachers routinely post school work on Schoology for students to access. Encouraging your child to complete school work while out of the building will help to reduce their stress upon their return.
Students may borrow a laptop computer from the school during a mandated quarantine or isolation to be used for school purposes only.  Students will be required to sign a financial responsibility form to cover loss or damage.  Use of school technology off campus is still subject to our acceptable use policy.
How Apollo Career Center will comply with the Ohio Department of Health Director's order regarding notification of positive COVID-19 cases at Apollo Career Center.
If your child attends Apollo and tests positive for COVID-19, you can report this to Apollo by calling 419-998-2900 or 1-800-992-2913. We also request that you provide us with written documentation.
If we become aware of a student or adult that has tested positive for COVID-19 and this individual shares classroom or lab space with your child, we will notify you via the School Messenger email system with a letter attached to that email.
If there is a positive COVID-19 case at Apollo and your child does not share a space with this individual, we will post that information on our website at apollocareercenter.com under the high school tab.
Please note that Apollo Career Center will work with the local health department and the local health department will issue quarantine orders.
We need to have correct email addresses for this notification process to work correctly.  You may contact Ms. Cox at 419-998-2921 or Mrs. Seese at 419-998-2973 to update or verify the email address(s) we have on file.
07/14/20
Due to COVID-19 guidelines, Apollo's Open House for August 20 has been cancelled. All student schedules will be mailed home the week of August 17. Forms can be turned in on the first day of school – first year students, August 25 and returning students August 26.  Most forms can be submitted, uniforms ordered and dues paid online here
07/13/20
Allen County Schools Common Reopening Agreement
05/20/20
Videos honoring our seniors will be posted and shared May 21 in the afternoon.
05/06/2020
A letter from the high school principal.  Please click here 
05/01/2020 
Senior Honors/Graduation 
A Virtual Graduation Ceremony for each program will be posted online May 21, 2020, to honor each senior.  The link for the virtual graduation will be posted on Apollo Career Center's website, and on our  social media.  
Apollo Career Center has been working closely with the Allen County Public Health Department, the Ohio Department of Education and a variety of other organizations to develop a plan for Apollo's senior graduation.  As you know, there are many safety protocols to follow and they change often and rapidly.  Our senior class is substantial in size and students come from five different counties.  Taking into account all of these challenges has made it difficult to plan an event that mirrors our traditional graduation ceremony.  It is for all of these reasons that we have determined that a virtual graduation ceremony is the safest way to honor our graduates.  This was not a decision that was made easily.  We love our students and we wanted to celebrate them as we always have done.  In the end, we want you to be safe and this is the best way we can ensure that happens.  
04/20/2020
Governor Mike DeWine announced Monday that schools will remain closed for the remainder of the school year due to the COVID-19 coronavirus. Students will continue distance learning for the rest of the school year.
USDA Meals for Kids Interactive Map: The USDA published the Meals for Kids interactive map to help families identify feeding sites during the Covid-19 pandemic. Families can use this tool to find directions to nearby sites as well as hours of operation and contact information. Please search within a 15 mile radius. The map is available here.
04/01/2020
Governor DeWine has closed schools until May 1.
To our students: You can still communicate with instructors through email and Schoology.
Apollo employees will be receiving voicemails from their direct extensions. If you need us, our emails and direct lines are on our website under staff directory.
The deadline for the 3rd nine weeks is April 9th.
03/23/2020
Apollo is CLOSED until further notice.
Please call:  419-998-2908 Press 6 for the Staff Directory to leave a voicemail. The staff is monitoring voicemail and email. Apollo high school staff 
03/22/2020
In light of Ohio's announcement to shelter in place we are closing the campus and all offices.
To our students: You can still communicate with instructors through email and Schoology.
Apollo employees will be receiving voicemails from their direct extensions. If you need us, our emails and direct lines are on our website under staff directory.
03/16/2020
Apollo staff met today to put a plan in place to educate our students. We will continue to communicate through schoology, our automated calling system, social media and this website. You can also contact your instructors directly through email. All staff email is located on the staff page. Please continue to visit the websites below for current virus updates.
Spectrum is offering free internet to college and high school students who do not have internet. Please click https://corporate.charter.com/newsroom/charter-to-offer-free-access-to-spectrum-broadband-and-wifi-for-60-days-for-new-K12-and-college-student-households-and-more
Meals for students in need
Allen East:  Information will be sent out on Monday to students and families
LCC: LCC is coordinating with St Gerard for meals…starting this week. Tues/Thurs 9-10:30am pick up at St Gerard parking lot, next week M,W,F
Lima City:   Open at ALL Schools ONLY FROM 10:30-12
Perry:  We are feeding here at the school.  It is planned to be a drive up at the West Wing, under to portico. We will use the media, social media, school website and One Call ( I'm not sure if Apollo students receive the One Call) to let them know.
Shawnee: Starting March 25th at Middle school, Maplewood and Elmwood.  11:30 – 12:15
Wapakoneta: 10 sites Beginning Tuesday March 17th – April 3, on Mondays-Fridays, we will be providing lunches to children ages 1-18 at several locations around the district. Each child must be present to receive a meal. These lunches will be free. They will be prepared as a pack and go meal. School vehicles with our logo will be used to distribute the meals.  There is a graphic attached with the locations and times.
Coronavirus School Cancelation
Governor Mike DeWine announced that the state is closing all K-12 schools, and so Friday, March 13 will be the last day of class for Apollo Career Center High School and Adult Education classes. At this time, the first day back is April 6.
We continue to depend on the knowledge of the Allen County Board of Health, Ohio Department of Health, and the Centers for Disease Control as well as our elected officials.
Based on the announcements from the Governor earlier this week, we have worked through the details of implementing our distance learning response plan for students. More school resources and information will be posted on our website, social media, and email as they become available. We will also be communicating with our automated calling system.
For more information:
The Ohio Department of Health has opened a call center to answer questions regarding Coronavirus (COVID-19). The call center will be open 7 days a week from 9:00 a.m. to 8:00 p.m. and can be reached at 1-833-4-ASK-ODH (1-833-427-5634)
https://www.cdc.gov/handwashing/pdf/wash-your-hands-poster.pdf
Apollo Career Centers: Coronavirus disease 2019 (COVID-19) Information
We are providing you with an update about coronavirus disease 2019 (COVID-19) and Apollo Career Center's efforts to ensure the health and safety of all students and staff in the Career Center.
There have been 3 confirmed cases in Ohio so far, all in Cuyahoga County.  
We know an outbreak in our region could impact schools, so we are preparing for many "what-if" scenarios to minimize disruption while keeping our students and staff safe. 
We are asking students to do their part to help prevent the spread of disease. 
State Health officials recommend that individuals engage in everyday, preventive measures to prevent the spread of germs and avoid illness, such as:
• Wash your hands often with soap and water for at least 20 seconds, especially after going
  to the bathroom, before eating, and after blowing your nose, coughing or sneezing. 
• Avoid close contact with people who are sick.
• Avoid touching your eyes, nose and mouth.
• Cover your cough or sneeze with a tissue, then throw the tissue in the trash.
• Stay home when you are sick, except to get medical care.
• Clean and disinfect frequently touched objects and surfaces.
These preventative measures will also be our best line of defense if the time comes that we do see 
COVID-19 in our area.
Additional information about COVID-19 is available on the Centers for Disease Control and Prevention (CDC) website—
https://www.cdc.gov/coronavirus/2019-ncov/index.html or
the Ohio Call Center: 1-833-427-5634. Open 7 days a week, 9am-8pm or Coronavirus.ohio.gov                                                                    
As more information is released from the Centers for Disease Control and Prevention (CDC) about the  Coronavirus and its potential impact in our area, we want you to be aware that we are staying up-to-date on the latest information and we're reviewing all of our public safety plans.
Safety of our students and staff is our top priority.
If you have questions or concerns contact 419.998.2908.
Sincerely,
Keith Horner
Superintendent